Running 150T/24h Maize Mill in Nairobi Kenya

Running 150T/24h Maize Mill in Mbala Zambia
Maize milling Machine running video:
https://topflourmill.wistia.com/medias/anl3w806ql

>>Click here for more info and Price
>>Click here for machine running video
CAPACITY: PROCESSING MAIZE/CORN 150TON PER 24HOURS
150T/24h Maize Mill/corn mill Line (HDFM150)
Capacity: input maize 150T/24h
The new HDFM150 corn mill is a compact mill developed for the entrepreneur looking to enter the maize meal market with a highly competitive product.
This maize mill machine/corn mill produces high-quality maize meal through an easily managed process.
HDFM150 maize milling machine /corn mill enables the client to produce super and special maize meal, samp,brewers grits,fine maize flour – all in one machine.
A compact machine in the true sense of the word True to HONGDEFA MILL tradition, one of the key benefits of the HDFM150 maize mill /corn mill is that it's a proper compact machine, which can be built on one level.
The HDFM150 maize mill machine has a footprint of 200 square metres and is only 12 metres high.
The roofs of existing sheds can be altered easily and cost-effectively to accommodate the maize mill machine, whilst no special concrete floors across different levels are required.
Simple yet technologically advanced
>>Click here for more info and Price

One of HDFM150 maize mill line most important goals has always been to build simple high-quality machines, and the HDFM150 maize mill plant/corn milling machine is no exception.
A PLC computer, which switches on the process electronically, ensures hassle-free control of the HDFM150 maize meal milling; all critical product levels are managed automatically and should a problem arise, the system switches off in the correct order to avoid possible damage.
An operator controls the entire process from a computer. HONGDEFA only uses high-quality electronic and electric components from Europe and the USA.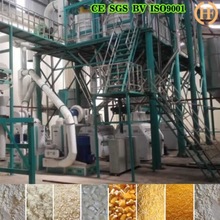 The HDFM150 maize milling machinecorn milling machine employs pneumatic transport that keeps the machine almost entirely dust-free.
Production Rate: 100 - 250 Ton per Day depending on configuration
The core technologies of our group are in the filed of maize and wheat mill process engineering, with European technology, South Africa maize process, China wheat process, roll out unique and innovative wheat flour and maize meal processing line. It has the following features:
1. Roller Mills
HDF maize milling machinecorn milling machine use Pneumatic roller mill.
1) The partitioned paneling and swing-out feed module guarantee ideal access to the feeding and grinding rolls. This makes residue-free cleaning possible.
2) a pulse generator automatically adjust the feed material at the entrance door.
2.Roller: Two different alloys with a mixing ratio allow the perfect balance to be achieved between hardness and roughness.
3. Plansifter:
1) Material: High-strength alloy steel
2) up and down sifter circles with steel plate overall by bending
3) Transmission system using spring force component institutions
4) Sieve frames of wood coated with synthetic resin,without backwire
5) All the inside walls as well as the doors are provided with high-grade insulation
6) Vertical and horizontal clamping system
4. Degerminator (Hongdefa Patent machine):
dry degermination with low fat content.
Technology. Multi-faceted sieve tube design, the screen The high-quality stainless
steel nitriding treatment
5. Gravity grading sifter:
Combined globoidal and Plane sifting form, different weight nature classification
6. Dampener:
Stainless steel. Bi-directional screw, Prevent free water, an intensive Intermixing
7. Bucket elevator and conveyor with reducer, High-quality carbon steel painting
8. PIPE: stainless steel in milling section
9. Moisture bin and store bin: stainless steel
10. Plant Control System: PLC CONTROL
11. Dedusting system: High Energy and efficient blower work with air-jet dust filter, dust content<10mg/m3
For these 150Ton/24h maize flour mill can get different kind of maize products, high technology and easily operation,
>>Click here for more info and Price

If you like this 150T/24h maize flour mill, please send us the inquiry,we will reply you within 24hours
Thank you for your time
MESSGES
PRODUCT LIST
ADD:Zanhuang, Shijiazhuang,China
TEL:0086-311-85528086
24H MOBILE: +86-13673118218
Email: topflourmill@gmail.com